The NEBRASKAland Foundation is a nonprofit corporation with the Governor as the honorary chairperson formed to enhance the pride Nebraskans share in the Good Life and to display this quality of life to guests visiting the great state of Nebraska. Learn more.
---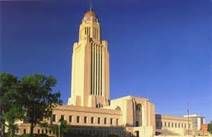 2020 Nebraska Statehood Day Dinner coming February 29th
Inspiration is a fickle thing. It comes and goes with little warning. The good news is, you can always reignite inspiration when you're feeling uninspired.
While summer is a time of fun, it can also be a time to help mold amazing qualities, like giving back to the community. Ask your children to choose an activity that also gives back
If you're able, use World Blood Donor Day as a time to give back and save lives by donating blood. If you aren't able to safely do so, consider helping out in one of the various other ways to help spread awareness.