The NEBRASKAland Foundation is a nonprofit corporation with the Governor as the honorary chairperson formed to enhance the pride Nebraskans share in the Good Life and to display this quality of life to guests visiting the great state of Nebraska. Learn more.
---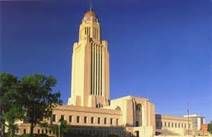 2020 Nebraska Statehood Day Dinner coming February 29th
Before you totally 'write off' the idea, consider the benefits that come along with journaling a little every day. Check out these five ways that getting your thoughts down on paper (or on your laptop) can help cultivate a more philanthropic focus.
With changing seasons comes more than just pumpkin-spice-flavored everything and crunchy fall leaves. The new season also brings forward new opportunities to do good out in the world.
What are you waiting for? The benefits of mentoring will not only give back to your mentee, but also to your community, and even to you.