The NEBRASKAland Foundation is a nonprofit corporation with the Governor as the honorary chairperson formed to enhance the pride Nebraskans share in the Good Life and to display this quality of life to guests visiting the great state of Nebraska. Learn more.
---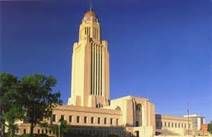 2020 Nebraska Statehood Day Dinner coming February 29th
There are many ways you can say 'thank you' to the people in your life. Use these ideas both today and year round!
The workplace is a space to get stuff done. However, it doesn't have to be all about making money. In fact, the workplace can be a great place to give back.
Although the weather is cooling down, that doesn't mean volunteer opportunities are also cooling! Use this season to participate in activities made for the colder months.